Hey everyone-
Netcurse is in Cologne, Germany for GamesCom and checked in with me this morning with a few tidbits of info for us. (higher quality pics will be available later)


One angle of the NC booth at GamesCom. What could that big winged curtain be hiding?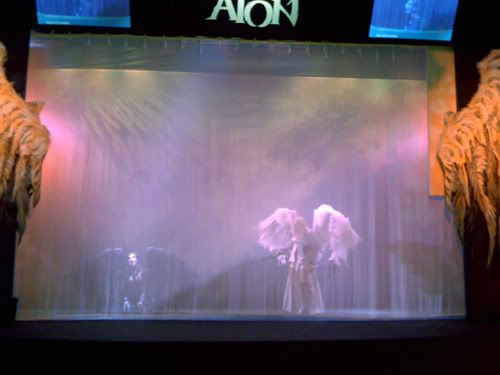 Ahh, our favorite Asmodian and Elyos characters have returned to the NC booth to perform once again for fans new and old.


As you know (or may not have known, I suppose, in which case you need to check here more often ;) ) Aion version 1.5 is at GamesCom and playable. Netcurse tells me that the booth features pre-made level 50 characters so that players can get hands-on with the new stigmas. He also tells me the translation is quite complete, estimating it at 99%, though this has yet to be confirmed by anyone. This info combined with the fact that Aion officialy went into production could mean we'll be seeing version 1.5 for open beta. No promises or confirmations, but we shall see.

Netcurse also reports that the new camera movements are in-game and working.

For those who are stuck somewhere that's not GamesCom, you can check out a live feed of the action on Facebook.

That's all for now. I'll post more updates as I get them.