Hey everyone-
For those of you who have been following the
AionSource Twitter
account, you'll know that I was quite the busy body this weekend! PAX, interviews, parties, dinners- my head is still spinning from the excitement, but now that I'm home and have working tools (ie un-crappy internet, un-crappy laptop, photoshop, time) I can give you all a proper recap of everything that went down this weekend!
We'll start at the beginning.
The first place I went to, obviously, was the NCsoft booth. Sebastian (Ayase) and Martin (Amboss) were both there right away and I talked to them a bit and gave them everyone's presents (the mugs and the mural)
The booth itself was very cool. It was fully covered by giant concept art with lots of terminals available for people to play 1.5 Aion. The entire back of the booth was set up as a photo-op area where people could pose in front of the black wings and wintery backdrop and it was quite the hit!
There was also a large scaled replica of Atreia in a glass display case rotating around to give everyone an idea of the world itself. Very cool!
Here are various pictures from the booth itself: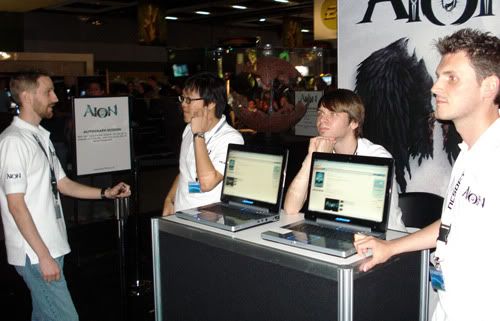 Some of the Aion team hanging out, ready to help people pre-order the game.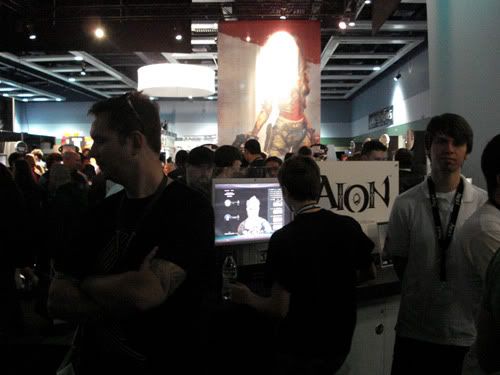 Lots of people!




Some people checking out the game with a little Ayase assistance.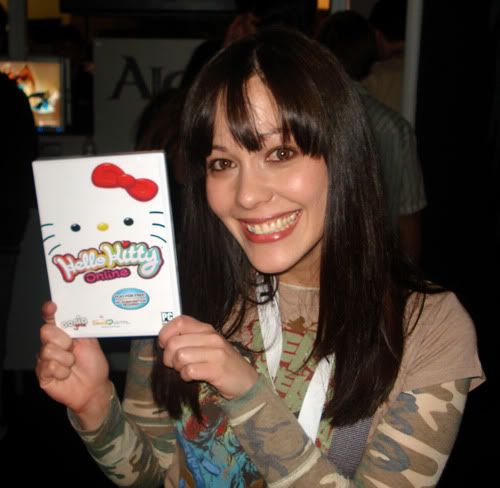 Liv was very excited to present the most anticipated MMO of all time. I think she secretly wants to jump ship to work for them!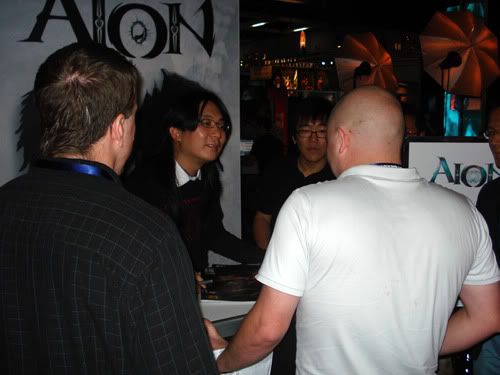 Lead Designer Yongchan Jee was present to sign posters for anyone who wanted. He's a great guy, but more on that later.




Here is the photo area I talked about. Professional quality photos and you could have a nice 5x7 printed off for you on your way out of the area.




Ayase and Amboss holding up the mural I made for them. I really hated to let that one go but I'm glad you guys liked it!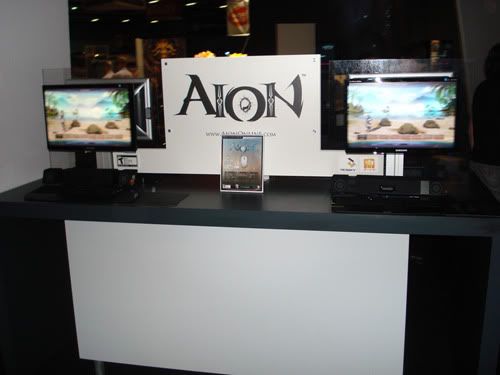 Nice and clean stations with plenty of room to play without feeling over crowded by people.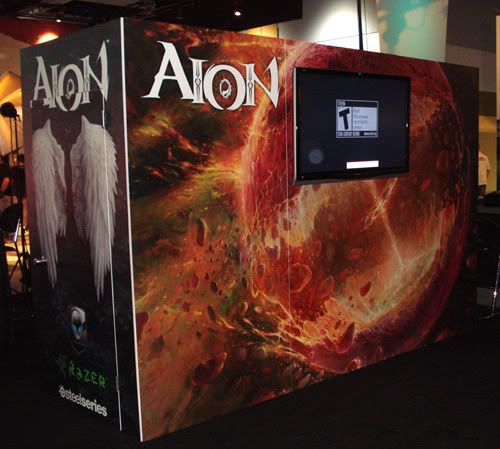 This is the NC staff's hideout. They go in here when they want to get more t-shirts or to escape me.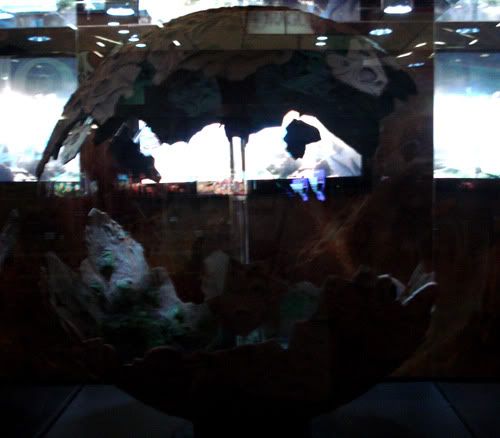 Sorry that this photo sucks, but it was dark and there was glass around it. Hopefully it gives you an idea of the model I mentioned before, though. It was quite cool in person.

After the first day was over, it was off to the Aion launch party in the space needle! It was a -very- upscale party (as far as I'm used to anyway). The food was amazing- cheese stuffed mushroom caps, sushi, ham rolled asparagas, crab cakes, baby tomatoes stuffed with yum- lots of stuff that was all very tasty. The desserts were great as well, though I don't really know what they were, other than delicious!
It was a gorgeous night and the view was amazing from the Space Needle. I mingled with lots of people; producers, designers, etc- it was very fun and enlightening to talk to some of these people. My legion and I got a picture with Yongchan Jee, as you may have seen already and it wasn't long before he pretty much became part of the group!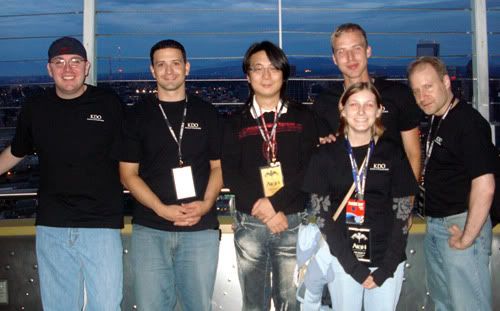 Some of the KDO crew continued to sit and talk with him at the party for hours, then went on to have dinner and drinks with him the night after, AND the night after that also! He's a very quiet person but has a great sense of humor and is very kind. I'm glad that we could help him feel a bit more at home in Seattle, even though it wasn't our home, either!
Back to the party! After the mingling and prize drawings and eating had died down, many people retreated to the lower level of the Space Needle where the ever-present-when-lots-of-people-drink-together-activity of Karaoke took place. We couldn't get Ayase up there (and I avoided it as well, if only because I didn't want anyone to feel bad that I was so amazing at it) but Liv and Amboss each made a performance. Due to unconfirmed threats against my well-being, no video of Liv was taken, but I did snap a couple pictures!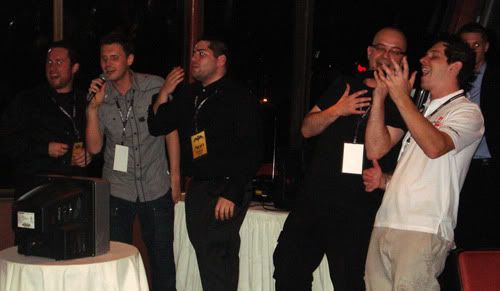 Amboss (second in) with some of the other guys doing a very... stylized... version of a Backstreet Boys song. I was waiting for them to start chanting "Raaaazor!" but instead they took off their ties and belts before they were stopped.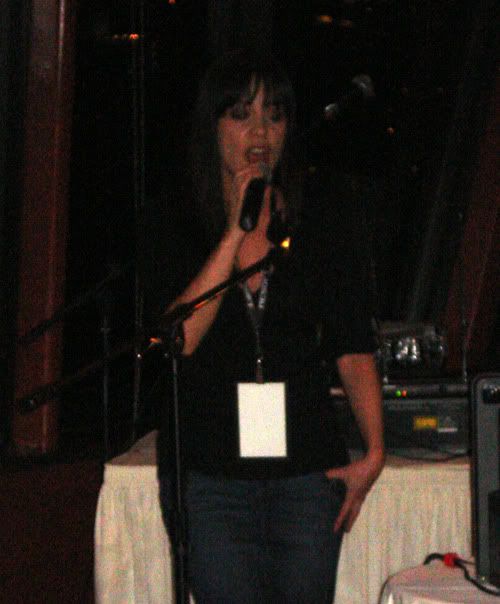 Liv performing a very impressive rendition of "Hotel California". She may never admit it was good, but it was ;) (Sorry about the grainy photo. It was dark and photoshop can only do so much.)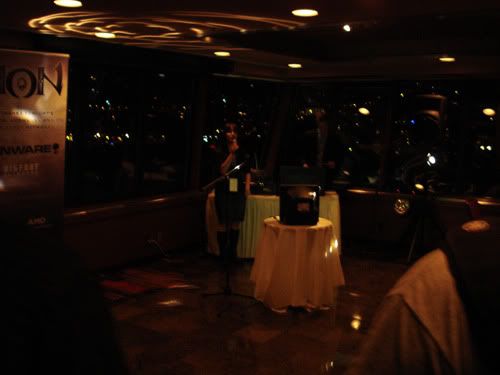 One more of Liv to better show the room. It was very nice in there!


Once the night was over, we descended the Space Needle and were greeted with a swag bag. So naturally, I photographed the items of importance.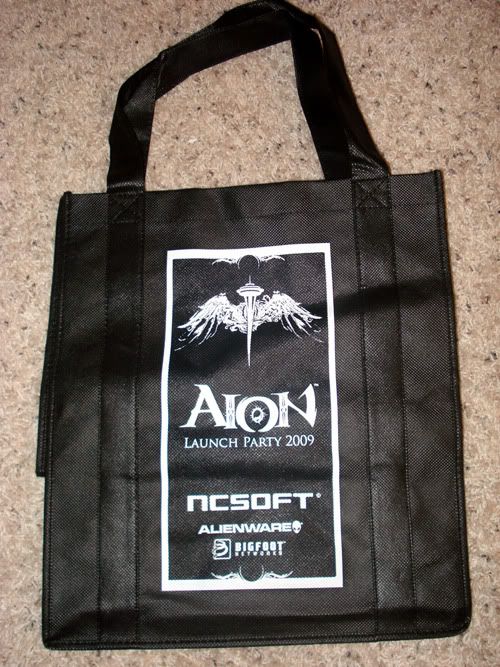 The bag itself, displaying the logo for the launch party as well as NC's partners who donated some pretty cool stuff for prizes at the party.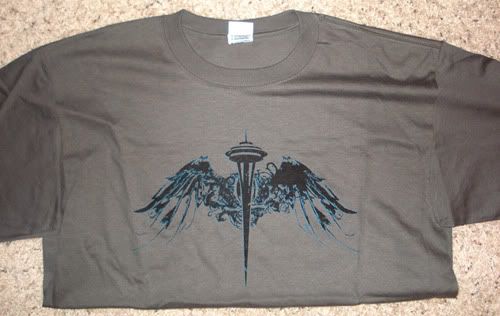 The front of the official Aion Launch Party shirt. This baby is rare indeed!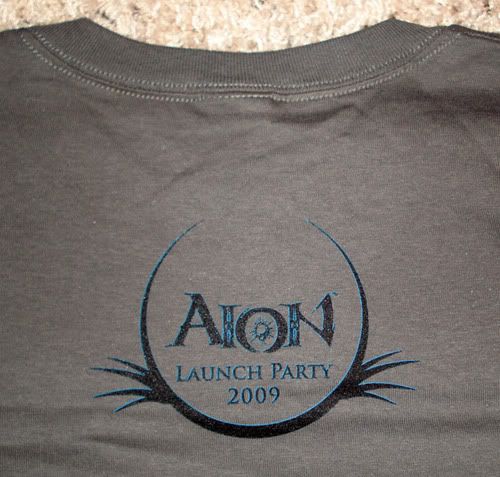 The back of said shirt.



And of course, the filler. An unpainted version of the CE statue, the Limited Edition DC Aion comic, the Pre-order bonuses, some rather tasty gamer grub and a "heath potion" drink. There were some other little things as well but these are the items of importance as far as I can remember.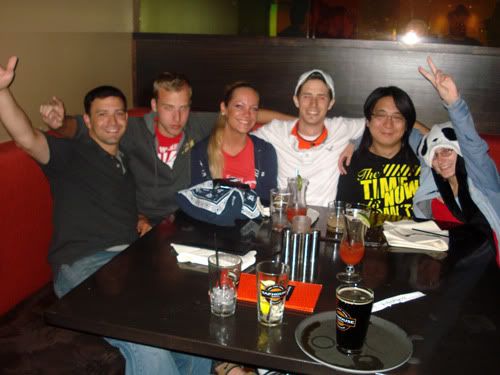 Here's a picture from the "Dinner and drinks with Yongchan Jee" tweet I made on Sunday night. It was a fun time for sure, though a few too many Long Island Iced Tea were had.


So there you have it. It was a very exhausting, but rewarding week. I greatly enjoyed meeting everyone, so thank you Lani, Brian, Sebastian, Martin, Yongchan, and the rest of the NC team for being so hospitible and just downright fun! Thanks to all the KDO and AionSource crew that showed up and made the weekend fun and eventful!

And now I leave you with one last picture of myself (looking like a doofus) and Liv. I hope you enjoyed this recap, and let me know if there's anything I missed that you want to know! Take care all.