EDIT March 27th 2013,
new forum for discussion
:
https://groups.googl.../aion-rainmeter
EDIT Aug 10th 2012, new website:
http://rainy.ws/
edit: expanded the section in my website about enabling the chatlog with more detailed information
http://rainy.ws/how-to-enable-chatlog/
Hey, a few of you might have been following the discussion last few weeks in a couple threads about KDM no longer registering crits since 2,5.
A while ago I decided to start my own tool because of that situation (KDM dev no longer worked on it), and lately I've been finally putting some work on it. There are a couple forges of KDM actually around: jacky got the 1.2 source somewhere and fixed the crits registration, and seems to be adding some new stuff, and someone else appeared to have fixed the crits in 1.5, probably through hex editing some of the regex strings used in the source etc.
My tool isn't related to that, it's a new app completely written from scratch and with very different methods for damage recognition. Unlike KDM I'm not using some generic regex stuff, but rather ~manually analyzing the lines in very different ways and more intelligently recognizing the hits (f.e certain skills from sorcs and sms are recognized as such and handled separately, each taking into account initial delays and expected duration, and sin's lethal venom is also recognized). Godstone damage is also being recognized, which was missing in KDM, however a bit limited. Your own dd godstone damage will be automatically added to your counter, the rest will be still be identified but added as a separate counter of its own (can't identify gs damage from other players). Hits like delayed blast, magma and ice sheet from sorc are also handled (kdm didn't).
Additionally, chat is being filtered and split in different boxes, like the chat lfg (without the recruit/wts spam), whispers, general/group/legion chat, etc. URL links are also catched and you can click on them from the app.
What's missing?
Well, this is still just the remaints of my debug window as I was coding the core part of the program, so there isn't a proper UI built yet. Also missing is pet and servants damage, and DPS metering (only total damage is being shown at the moment).
All this will be added in the next build, along with a decent small UI, a bit similar to that of KDM (chat features will be initially hidden and you can expand the window to access them).
If you wanna check it out while still on alpha, I've put up a small website where you can follow up on the progress and download it:
http://rainy.ws/
Let me know what you think, ideas or whatever, and keep in mind it's still mostly a debug version.
Note: .NET framework is not required, it's a native win32 app, so no issues with .net crap.
edit: screenshot from 0,5 beta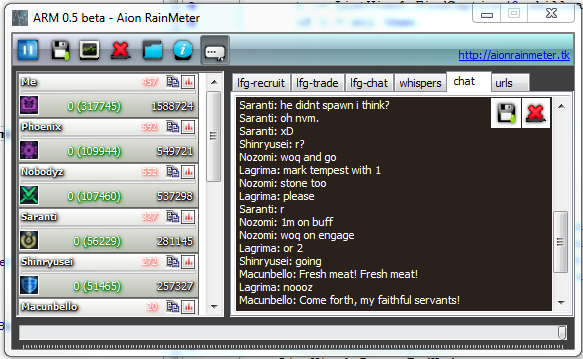 This post has been edited by Mikuni: 26 March 2013 - 08:41 PM