EU Aion has been criticized for having the AION Club, but not really much of a bonus for those who became loyal members.
According to Gameforge
, the feedback has been received and changes are coming. In order to make the AION Club more worthwhile, participants in the club will start to receive surprises from time to time. The first surprise will be waiting for current members today in their shop
item management
. Shown below, the Taegeuk Shugo is a very talented Football Shugo (soccer for you Americans). He is being released to celebrate the final of the European Football Championship (2012).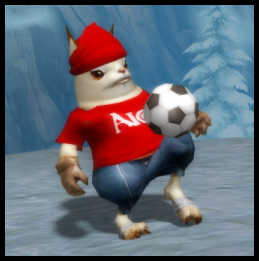 The Taegeuk Shugo was first released as a limited edition pet for Aion in 2010 in order to celebrate the 2010 FIFA world cup held in South Africa. There is also a female version of the pet, which could potentially be a good gift for a future event (hint, hint).
For you football fans, even if you aren't currently an Aion Club member, you can still obtain the pet. From the 26th of June until the 28th, new Aion Club members will also receive the Football Shugo. The delivery of this Shugo will be on the 29th for all new members.
Cheers,
Nobody