As posted on the
official Gameforge Aion site
, Gameforge will be running an event from 30/7/2012 until 2/8/2012 between 18:45 and 19:45 CEST where waves of monsters will spawn in the Empyrean Crucible. The rewards are by faction and could add up to a total of 20 plat/gold medals for finishing 10 stages and reaching a certain limit as well as 100% XP and AP boost for a full week (the week of the 7th of August). It is unclear what is received if the 10 stage limit isn't achieved.
The full details have been copied below, including the server timetable for the event.
Details
You think you are tough? They don't think so!
During the event, waves of bosses and monsters will be spawned similar to the Empyrean Crucible – Just more challenging for you. Of course, you are no challenge for them! Chosen badass bosses and monsters known from various dungeons, challenges and world bosses will appear and tear your armor apart and chew on your bones to prevent you reaching the next stage.
Each stage will increase in difficulty and all bosses and monsters from your current stage need to be eliminated to start the next wave. Yes, eliminate them. Send them back to the deeper parts of time and space where no sun shines and no moon rises!
Each stage has no time limit. However, the whole event will take
one hour in total
and your faction needs to
reach as far as possible in stages to increase the amount of reward given
.
The rewards will be given out when all events on all servers have been finished.
The monsters and bosses are in anger and await your presence. Finish them off before they slaughter you and your friends. You have no idea what nightmare you have unleashed!

Rules in a nutshell and Tips
* Sabotage the event by pulling bosses to cities or resetting them will lead to an exclusion from the event
* You can use your own tactics to survive the waves and are permitted to use either insane zombie rush techniques or the environment to hide from the bosses. A real Daeva of course doesn't hide from bosses!
* After the max time limit of 1 hour, the monsters will be despawned and the event will be finished.
*
We highly recommend using kisks (Alliance kisks e.g.)
around the area to bind you in case of death. Prepare yourself well. You are fighting against several waves of bosses!
Rewards
For each stage managed to be finished, the whole faction will receive 1 medal split up as follows:
* LvL 40-50 receive 1 Gold Medal per finished stage
In addition, we will activate an AP and EXP event depending on your overall results for all servers and all factions. A detailed calculation will be announced in the forums.
If all servers reach a certain calculated limit, the amount of medals will be doubled!
In total, you gain up to:
* 20 Platinum/Gold Medals for finishing 10 stages and reaching a certain limit
* 100% Exp and AP boost for a whole week
Rewards and the Exp/AP boost will be given out with the maintenance on August 7th.
Locations
Elyos
Area: Eltnen – Eastern Eracus Desert, near the Mystic Spring of Anathe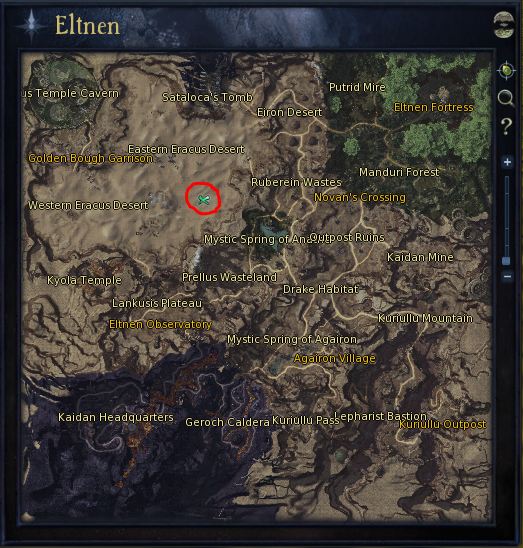 Asmodian
Area: Morheim – Salintus Desert, near Fortress of Sorrow