So yeah basicaly I joined for a sunayaka run tonight and wanted to see if i can get a ench stone or sth, and see if surfas is truly a scammer.
We fought some ely bla bla bla, killed the boss we got a Sword and a hairpin from the loot and 12x lvl 110 stones.
Here's what happened: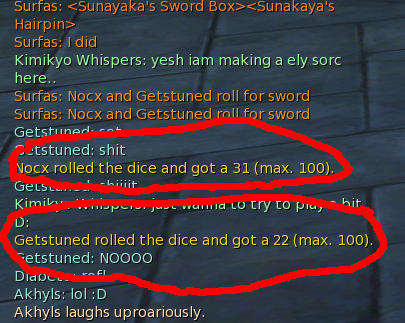 So yeah the Nocx sin rolled 31 and Getstuned roll 22.

He was about to loot the boss so Nocx can take it and he rolled, ppl rolled aswell i guess cuz of some trolling etc. And see what happened next: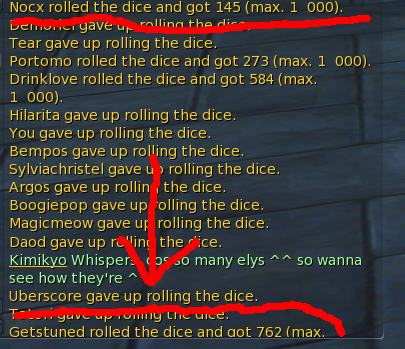 After 5-6 mins of shouting:



Delian got the loot afterwards and on mine and Krystalz protesting , while realising the situation and what was going on, he gave the loot to Nocx sin. And I guess Nocx had to give back the sword he got cuz surfas wouldnt give stones then.

Summary: Surfas and get stuned probably worked together onto this scamm and im just bringin` it up that Surfas is trully a ninja eventho i tought he wasn't and wanted to proove it to myself.

Message to surfas...

Dude get a life already, ur playing this, game from since i know u, like 2 years ago atleast non-nyerking-stop. Ur living the game, damn son. Srsly im realy amazed by this guy.

TL;DR Surfas biggest spatalos scammer 2k12
Ill try to get this thing to gameforge and maybe they'll ban him , who knows.