Below are spawn times and locations for the quest "Work of the Fenris's Fangs - In most of the screen shots I opened the in-game area map so that you are able to see my location on the map. The order is as follows:
1) Riikaard - Panda - bottom floor in building - always there (not a rare pop npc)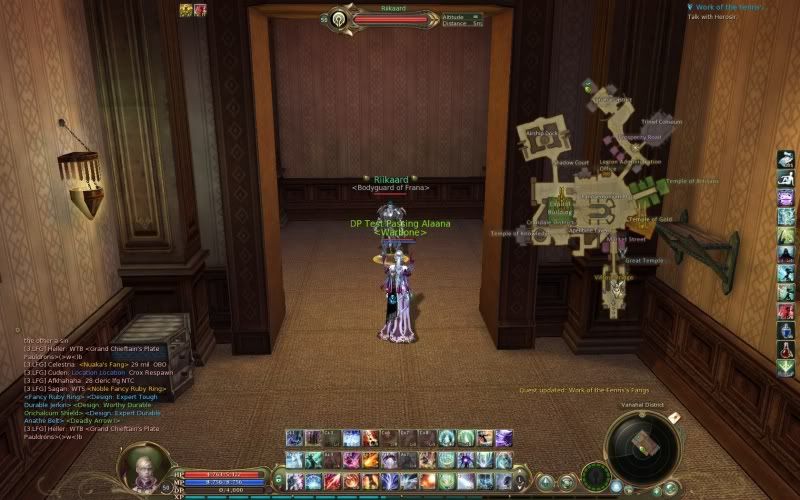 2) Herosir - Ishalgen - spawn time has changed from constant to 10am-12:pm game time which changed with the Dec. 09 Patch.
3) Gellner - Morheim - 7am-9am game time. This NPC seems to have skipped a spawn time or we were asleep camping. =) Head to Silver Mane Village. This NPC spawns on top of a circular platform. You will notice a staircase to the left of the platform where you will be able to hop on top of a rock and glide to the top of the platform.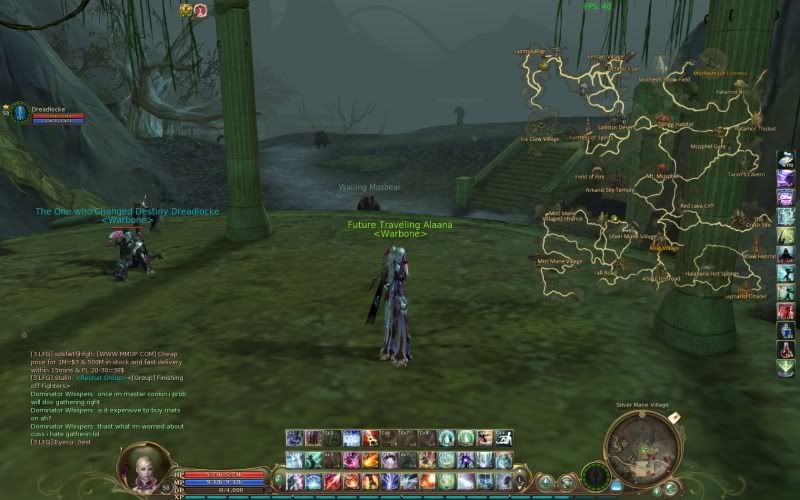 4) Natorp - Morheim - 5am-7am game time. - Red Lava Cliff.
5) Needham -Brusthonin - 3am-5am game time. (We found our spawn in channel 2. It is said that he can spawn in either channel 1 or 2. Spawns in the water, just below a wooden ledge platform hanging out over the water.)
6) Landsberg -Beluslan - 2am-3am game time. NPC on ground at this location. (Tip:- if you wanna camp or park your toon at the location it is safe to fly down from nearby bridge and land on one of the elevated ice-crystal platforms to eliminate gankage if you are going to be AFK waiting for spawn)
7) Levinard -Brusthonin - 1am-2am game time. Check Channel 1 and 2 for spawn.
8) Lonergan - Beluslan inside Alukina's Palace - 12am-1am game time. Fly upward toward the surface for this one.
You may also go the below link for names and location info but I believe all of that is answered above. Happy Hunting and Good Luck! Alaana =)
Work of the Fenris's Fangs - Quests - Aion
This post has been edited by Alaana: 21 December 2009 - 09:51 PM
Reason for edit: Herosir Spawn time change as of 12/09 patch