Ok, I've been level 50 for a while in Korean ArcheAge and I've played most of the classes at least a little bit. I think I've got enough information to write a proper review of the game. I'll start with the good stuff and go on to the stuff that I find down right annoying with the game. Note that I'm still playing and expect to keep playing for the foreseeable future.
Why you will want to play the game
Open world PvP with pirating on the open sea. This makes the game and is my main reason for remaining as a player. This is the "don't miss it" feature of the game. A word about the graphics here - if you've got a good video card then the game will use DirectX11 and it will look very beautiful. If you don't have a good video card then the game will look ok, but you probably won't want to sit and watch sunsets on the open water. You may also want to upgrade your graphics card to play the game and see it at its best. I did.
Note that in the image above I'm actually not pirating, I'm delivering a pack of roses to the enemy continent. This is indeed as dangerous and profitable as it looks and there will be people waiting at the port to try and take me down to steal the pack. While I have the backpack on I can stealth/buff, but I can't fight.
They've somehow done a pretty good job in the game of making the benefits of delivering packs good enough so that people will want to deliver them and pirates will have somebody to steal from. You can buy a trade ship to fill with goods that you can drive from one port to another and sometimes the Koreans form armadas to protect their trade ships. Which is a lot of fun in terms of PvP.
Interesting Parts of the Game
The Sandbox
The game is more like a sandbox game like SWG than it is a WoW-like clone. At launch the game has full housing, growing crops, growing trees, livestock, and every type of crafting you normally see in a mmo game plus general building construction. The Koreans are just starting to get creative with some of the things they can do with their houses. Like I ran into a house the other day that had boxes going up the outside of it and a jumping puzzle on the roof that led to a bed (also on the roof).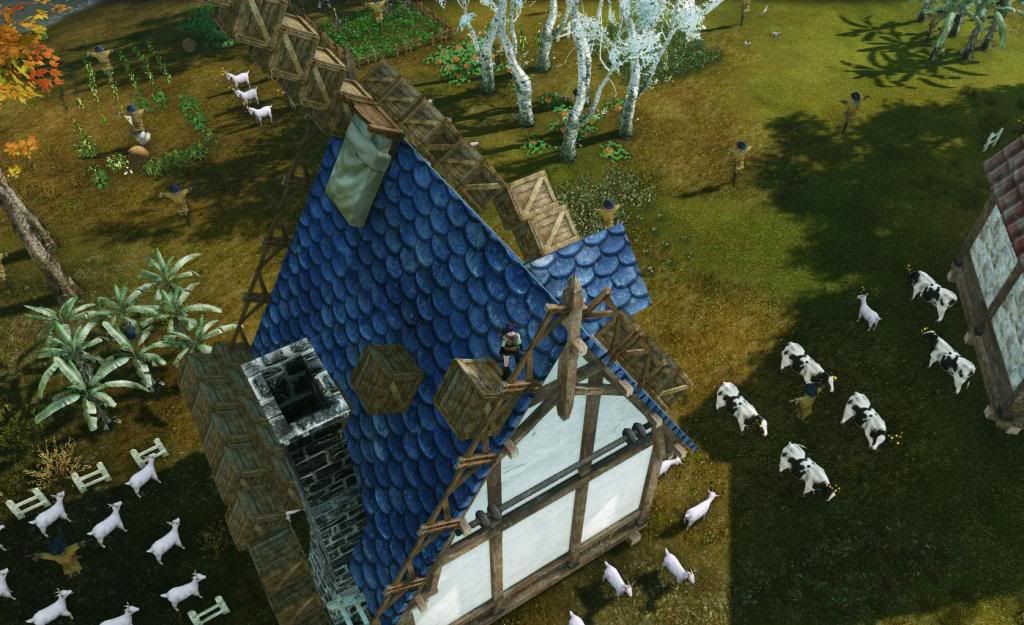 There's also buried treasure that you can put on your diving helmet and flippers to bring up from the ocean floor. It's nice to see this level of detail in the game and it's the little things like this that make me smile when I come across them.
The Northern continent is where guilds will all be trying for their very own fortress to protect from others. So far, the game has opened up 4 zones on the giant Northern continent and each zone can have 1 fortress. They will soon open up the 5th zone in a patch and another guild will step up to have a fortress. It's rather nice that the game is waiting for areas to become occupied before opening up new areas - it ensures that people aren't too spread out and that's important in a game with open world PvP.
Crafting
There is a lot in the game for those that like crafting. There is armor/cloth/leather crafting (each character gets to choose what they want to wear for appropriate bonuses from the armor type), weapon crafting, harvesting, lumber milling, potion making, construction (includes house furniture), livestock care, jewelry making, smelting, stone making, and probably some that I'm forgetting. You can break down greens and above to get back components needed for crafting via a vendor item that you use on them.
You start out with the ability to raise all crafts and gathering to 10k, but you won't easily be able to actually raise everything at once because of labour points. Labour points are used whenever you gather or craft anything in the game. I've heard they also affect using the mailbox, so don't run yourself down to 0. You get a set amount of points per day on your account that can go to the different characters on the account. There's a check box for choosing which character is getting them at the character login window.
You can give your labour points to another person to make something for you. This is helpful for guild crafters. Note that even if you hate crafting in games you will be using your labour points in this game. At the very least you will buy goats/cows and sell their milk to the vendor for cash. You will have rent to pay for all your land you use, but you will happily pay the rent as the land makes more money than it costs.
Resource management and crafting are a core part of the game and you will be participating in it if you play the game. I imagine that some people will love this (I like it) and others will hate it because they don't like having to spread crafting/harvesting around on a daily basis.
If you don't login for a few days then all your crops and animals will die. The good thing is that if you invite somebody to your "family" then they can feed the animals and harvest your crops for you. As long as you are making your rental payments for the land, you can do whatever you want, including just making a pretty park area outside of your house.

The Legal System
I am very happy that same faction kills exist in the game. You are able to flag and kill your own faction in level 30+ zones of the game (max level is 50). You can also steal from any crops not grown with a scarecrow. However, you will leave footsteps if you steal (one per crop) and you will leave blood (usually 1 per kill, but it may be more if you punch them to death slowly) that may be turned in to the legal system of the game. When a player reaches 50 points and dies, then they are put on trial. Trials are public affairs (there is a trial chat channel) where other players on the server are dragged into the trial and get to make fun of and sentence the player in trouble. There is a jail system and a debuff placed on the character that is in trouble. Generally, the debuff places the character in a "timeout" state where they can't start stealing or killing again easily and they are an easy kill for anybody else. Players can escape from jail or play soccer in jail.
Weather
This seems like an odd thing to discuss when discussing interesting parts of the game, but this particular game has some interesting localized weather. As an example, there are traveling wind tornadoes in the beginning Ferre zone that will toss you up into the air along with your mount and blow the mount across a field. There are storm clouds you can pass on the open sea that give you a lightning related debuff.
I can see some interesting things happening with this localized weather that could make decisions for pirates more interesting. Do we chase the boat through the storm and potentially get set on fire or do we try to go around it?
I hope they do more with the weather in the future.
Things that are "the Same"
Combat
It's pretty much the same sort click buttons and have combat skills happen system that we've seen in many games. The only thing special about the combat would potentially be that there are combo effects that sometimes feed off of each other. As an example, while under the "Charm" effect, you can cause "Fear" if a certain ability is cast.
The class system is both the same and a little different - it allows you to pick skills from 3 classes which are mostly the archetypes we know and love (fighter, assassin, ranger, cleric, mage, bard, necro, etc.) with some skill areas existing in their own classes (CC, tank type defense, PvP utility).
Questing
The quests in the game will be the same rails type system that you remember from pretty much every other game you've ever played in this genre. ArcheAge questing is similar to Rift questing that is similar to Aion questing, etc. Questing is the quickest way to level in the game (especially picking up all kill quests) and it's a decent way when starting the game to make money.
I can't comment on the storyline as I don't understand Korean enough to actually read it. There are a couple of "cute" quests for the different races (like where you climb a giant beanstalk), but by and large the quest system is "the same" as other games in the genre.
You do get your mounts and combat pet through quests and you raise them from babies. This was an interesting part of the game. Of course, then you have to level them and it becomes more difficult to level them in a legit way as you gain levels yourself thanks to their ability to die in PvP and the costs of them doing so.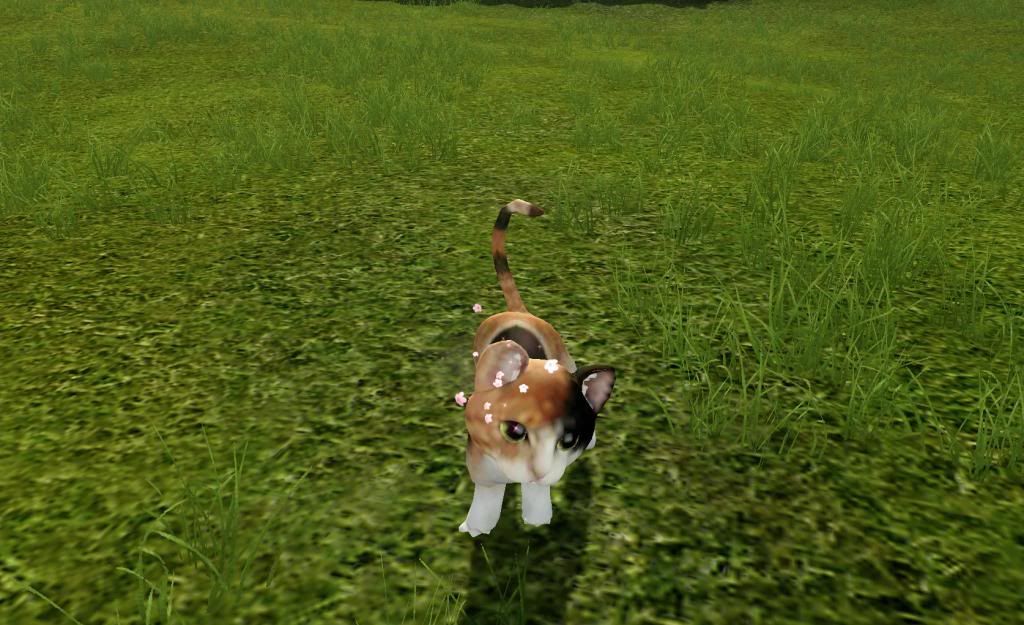 Since I'm not a big questing person, I'm honestly thankful that I haven't had to quest at all since I hit level 50. I may go back to it at some point to level my combat pet more.
Dungeons
There's a dungeon at every 10 levels approximately once you are level 20. Each dungeon gives a piece of special gear that it's helpful to run the thing once to get. The level 20 dungeon gives a cape (some people are still using it at end game) and the level 30 dungeon gives something to do with mounts.
The dungeons overall are tuned a little difficult (I actually enjoy that) and the bosses do have some scripting to make them more interesting. I haven't seen anything yet in the dungeons that would put them heads and tails about what I've seen in other games though.
Gliding
While gliders aren't particularly common in NA MMO games, they seem to have become a common staple in Korean MMO games including Aion, Blade & Soul, and now ArcheAge. The gliders in ArcheAge have additional abilities to the ones in Aion in that you can drop bombs from them, use a skill to raise your flight level, and there are a few other ones. I find them especially fun for gliding onto an enemy boat and attacking them, but sometimes it's also fun to just glide over the top of a major city.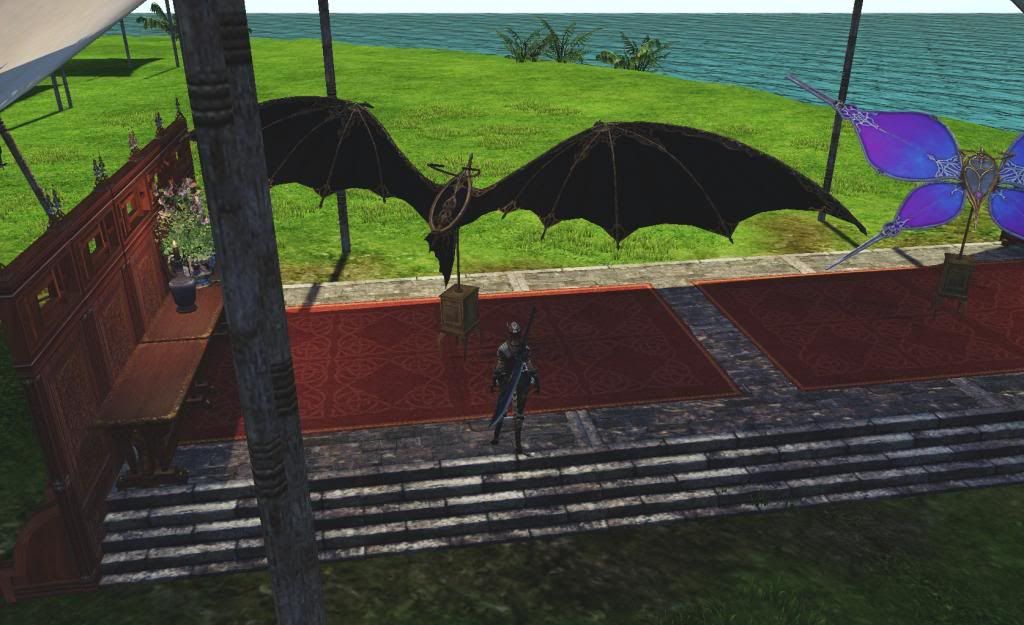 Annoying Parts of the Game
There are some annoying parts of the game that aren't bad enough to keep me from playing it, but deserve mention. Some of them are what I consider to be flaws with the game and some are just down right annoying and are things I hope they will fix. Please note that these are my personal opinions based on having played many MMO games.
Factions: sorry, but factions in an open world PvP game are a flaw. Why? Because while you can flag and kill your own faction, there are penalties for doing so in terms of the legal system and you can't always kill them if you're in a safe zone for your faction. We already have guilds allied across the factions to protect and help each other in the game and eventually one faction will probably start to dominate the other on some of the game servers. I would much rather have a guild or alliance system in place than a faction system. Especially since both factions start to use the same quest hubs in level 35+ zones and some people on your own side are just dicks and should be killed at every opportunity.

Safe areas: All level 30 or less zones are safe in the game for their faction. In some places this means that harbors are safe for ships of one faction. It means that some people never leave those zones and do all their deliveries for low amounts of money within those zones. While that's ok in and of itself, I would like to at least see the harbors either safe to everybody or PvP to everybody rather than safe to one faction and not the other. It becomes very annoying to run after another ship, have it enter a safe zone for themselves and then they open fire on you.

Hard CC abilities: There is a lot of hard CC in this game and it makes the PvP battles too short. Commonly the winner is whomever attacks first. I'd at least like to see more resistance or ways to counter the extensive CC. There isn't a lot you can once you get CC'd do especially against fighter stuns/knockdowns in the game right now.

Class changes: I like that you can reset your skill builds in the game easily and without a lot of money. That's great. You can also respec to a different class (you have 3 classes you spec into as one character), but you have to relevel that class from 1-50 again. Re-classing is currently quicker to level than leveling a character from 1-50 again, but the current way to raise your class again is just to grind mobs and it gets very boring very quickly. I'd rather see less of a penalty for re-classing as people do make mistakes and do just want to try something different once in a while.

World of goats: Because goats and cows give back so much money when selling milk to the vendor EVERYBODY has goats or cows. The game has become world of goats in housing areas. I assume they're going to nerf this at some point, but I am starting to hate looking at fields of goats.

The game just isn't finished: This is something that happens for all games launching these days. The big things going on right now for ArcheAge are with pirates, sieges, and the northern continent.


The 3rd faction (pirates) seems like there aren't a lot of positives to actually joining them as you become kos to everybody else in the game and you only have pirate island to return to. You can't quest on either of the other continents anymore. I'd like to see more done with the pirates to make them viable as a true third faction if we're sticking with the faction system in the game.

Sieges are not turned on in the game yet as far as I'm aware and so guild wars on the Northern continent aren't happening.

The northern continent itself is a bit of a let down as it consists of housing plots without weather (weather exists in most zones and influences growth rates of crops), fortresses, and elite mobs in certain areas. It's rather boring.



Taxes and land: while I haven't had a problem keeping up with the taxes for my land so far, I'm also playing consistently and doing fairly high reward/risk delivery runs. I can easily see taxes getting out-of-hand if I wanted to stop playing for a couple of weeks because I was busy with real life. It seems like the taxes are a potential issue for the more casual crowd. I guess they can share houses with each other, but for those that like their own stuff it's going to be a problem. Right now in the game every square piece of land is taken pretty much and used - so if you lose your land you're not getting it back anytime soon. While this is good for the game as a whole (we're past the 1 mo. sub turnover), it's not good for those that want to go on vacation and don't want to worry about losing their land.

Crafting and crits: This isn't a show stopper because all end game gear is crafted and you can buy it using the auction house, but if you like crafting you're going to be annoyed with the RNG crit system. There's around a 20% chance to crit when crafting gear into the next tier (gray -> green -> blue -> purple -> yellow -> orange). You can also (very rarely) down crit. So far, I've got one piece of yellow gear and the rest are blues. For end game gear, there isn't a huge difference between the upper tiers and blues, so it's not game breaking. It's just annoying if you wanted to craft your own stuff and aren't a lucky person. I am not a lucky person.

Some of the animations/graphics are a little "off": find a video of a Ferre when it does the 4 legged run thing and you'll see what I mean. There are some animations that are just a little off. My donkey also looks like it has a tremendous swayback that bothers me a bit. The armor is not very "shiny" at the end game either.
Future Work on the Game?
Given what's currently happening with the game the things that aren't finished (pirates, sieges, and the northern continent) are going to be looked at I'd assume. Additionally, it looks like the following will be coming if I look at what's already in the game and where it seems to be headed:
Animal husbandry: I'm going to guess that at some point you'll be able to mate animals and potentially get better animals from it. This is primarily because all the pre-cursor stuff to doing this is already in the game. There is also the potential to mate battle pets as they're in the game already as well.

War: the Northern continent will have more going on with it in the future. It's fairly dead right now since things like sieges aren't in the game.

Player created factions: we were told this was going to be in the game in the past. I wouldn't be surprised if it were introduced after War starts.

Bigger and better things to buy: after you make a ship it never goes away. This means that as players get their gear and items they'll need other things to spend their money on, so the game is going to have to provide these things. I don't know if this is going to take place as a gear ladder or as more interesting houses and boats. It will be interesting to see as the sandbox nature of the game gives the devs some options here that most games don't have.
I'm sure I'll think of more to say later, but this seems enough for now.